Poems can help you in so many ways to make your special occasion even more memorable. From speeches and invitations to clever place setting poems and thank you cards. I offer a full range of services; all will be in rhyme and all are guaranteed too add a 'touch of unique' to your wonderful celebration.
For every option available, we will liaise closely in the initial stages so I can cater to your exact requirements and ascertain the right tone of the work I'll be producing. All the content is essentially provided by you. Often this is by way of a questionnaire as well as through phone calls, e-mails, and even face to face if distance allows. It's your day, you will always have the final say on my work and 100% customer satisfaction is imperative. Have a look at the services on offer below with prices and examples of my work highlighted too.
Speeches
Let From Me to You Poems take away all the worries and stresses of writing your speeches. Why not order it well in advance of the big day so you can practice it over and over so you'll leave all your guests in astounded awe of your poetic prowess!
Speeches can be for:
• Groom  • Bride  • Best Man  • Maid of Honour  • Father of The Bride  • Mother of The Bride  • Bridesmaid  • Usher  • Anyone!
A Poem For The Service
As the amount of different types of weddings increases, so does the different types of  order of service. Maybe your ceremony is one where you have the beautiful opportunity to reflect on your relationship and why you love your partner so much as part of the service? If so, then why not let me help you? I can produce the most touching (and if you wish – humorous) poem, telling all about your relationship from the first time you met, first date, funny stories and right up to the proposal and your plans together for the future. You provide all the content and then simply leave the rest to me.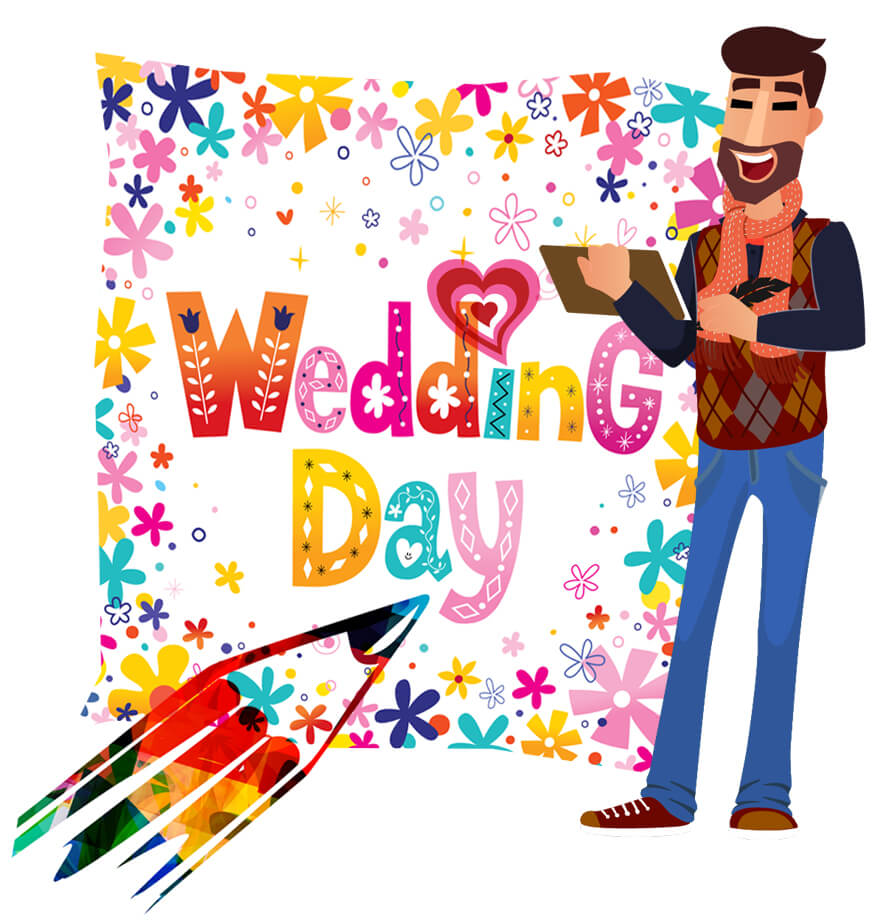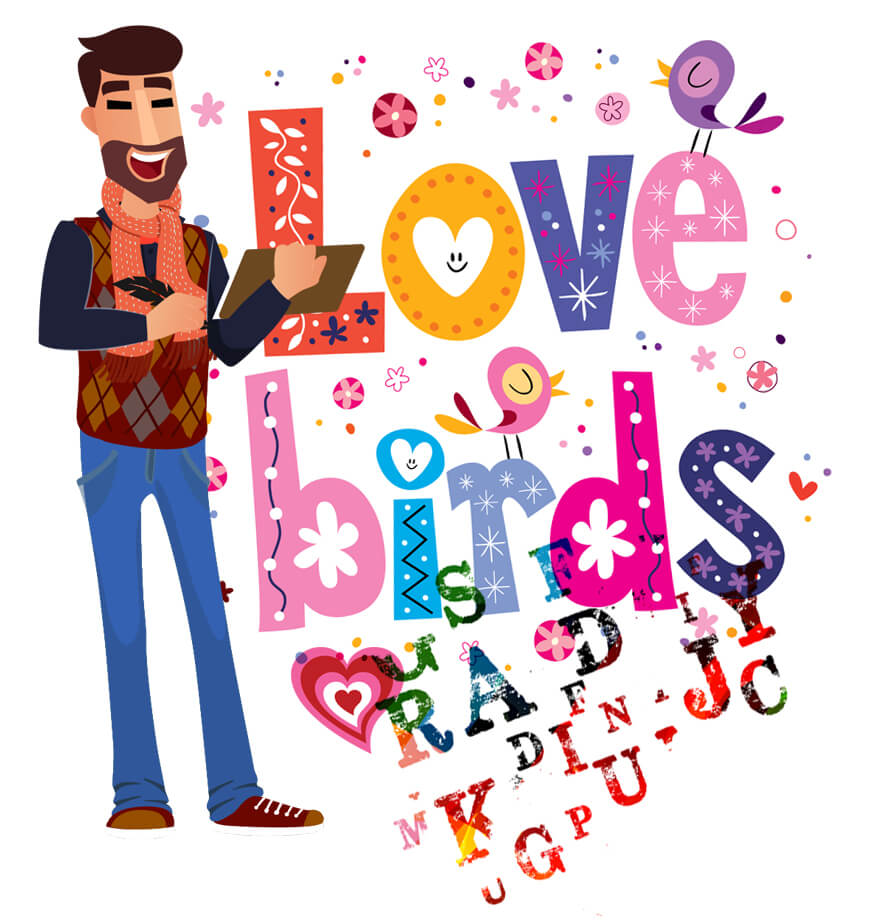 Invitations
The date is set and the guest list has been decided. Why not send out the invitations with a fun and informative poem, inviting those lucky people to your big day? It can include anything you like such as venue, dates and times as well as whipping up excitement for the big day and evening ahead. Maybe you need 2 poems – one for those invited to the whole day and one for those invited to just the evening? No problem at all – give me all the information and I'll produce something wonderful to drop through their letter boxes.
Place Settings
Instead of traditionally numbering your tables, why not theme them? Maybe after countries, celebrities or Elvis songs! Just let me know your theme and how many tables you need and I'll produce snappy 4 line poems for each table to welcome your guests!
Groom/Bride Thank You Gifts
Tradition shows that the groom/bride should buy little gifts to thank those that have helped the day go as planned. Why not introduce the presentation of these gifts with a little poem? Punchy, 6 line poems stating their involvement and how grateful you are. As always, all the content would be provided by you, I just add the poetic magic to make the presentation just that little bit more special.
Thank You Cards
Your fabulous wedding is over, the honeymoon suntan is fading but certainly not the memories of your wonderful day. You received some lovely gifts and you'd like to thank your family and friends for their kindness. So why not do it by way of a short poem to finish things off with? From Me To You Poems can produce a wonderful rhyme to let your guests know how truly grateful you are.
All the examples are of poems already composed for weddings that I have been commissioned to write. All are totally unique and all recipients have kindly given me their permission to show with just the odd personal detail changed.
Speeches/Poems For The Service
For all speeches, the prices are based on length. I have put an approximation of how long in time it takes to read based on a fairly steady reading pace.
Up to 40

 

lines – £90 – 3 minutes to read
Up to 60

 

lines – £110 – 4.5 minutes to read
Up to 80

 

lines – £130 – 6 minutes to read
Up to 100 lines – £150 – 7.5

 

minutes to read

Up to 120 lines – £170 – 9 minutes to read

Up to 140 lines – £190-  10.5 minutes to read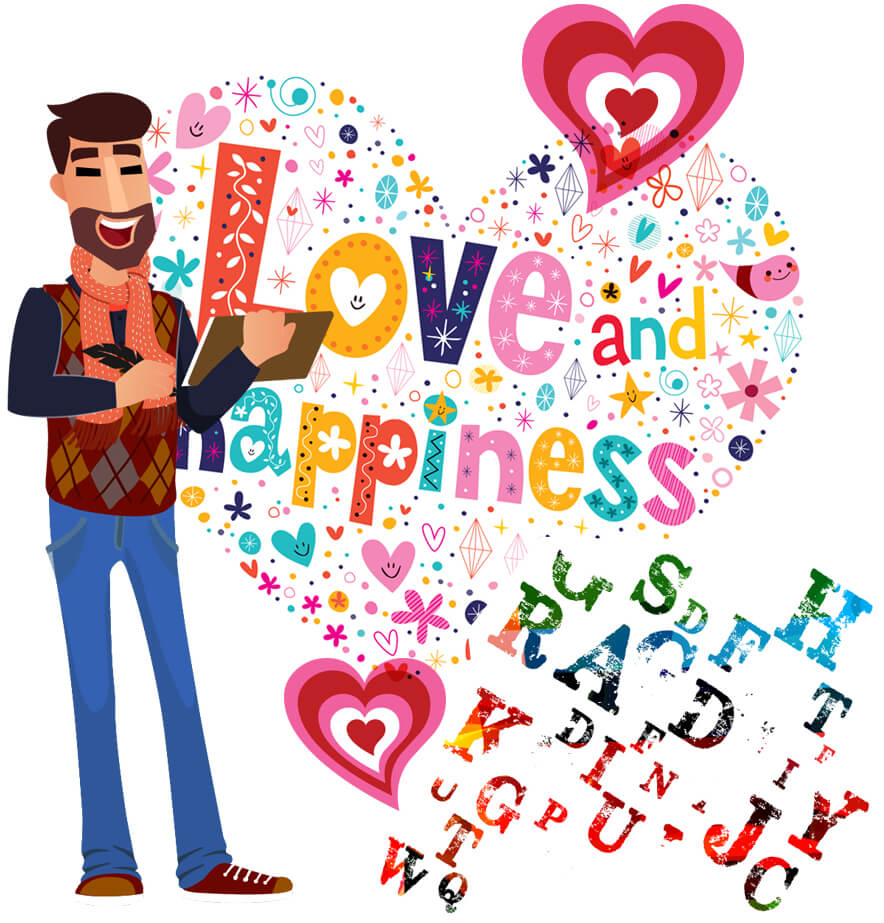 Example of a Best Man's Speech (opening lines)
"Congratulations Kim and Dylan on your Wedding Day,
Now in my duty as the Best Man, there's a few things I'd like to say.
Like you took your bloomin' time guys, it's taken you forever,
But finally, you've said "I do" after  13 years together.
But it really was an honour Dylan, to be the one there at your side,
To stand there right beside you, as you waited for your bride.
But why did you ask me, to be the one to help you through it?
Is it because you asked 10 others, but no-one else would do it?
Or maybe the decision was simply, it was me you trusted most,
To stop the others on your Stag Do, tying you naked to a lamp post"
Example of a Poem For The Service (opening lines)
"Today's the day we've decided to set the seal on our romance,
And on this wonderful occasion I thought I'd take the chance,
To let everyone here present know that there's no where on earth I'd rather be,
Than surrounded by our loved ones with you standing next to me.
Because from the first time we saw each other in that bar that Friday night,
I knew I'd met my wife-to-be and that you'd met your Mr. Right.
Seven years ago that was, well they say time flies when you're having fun,
And now as a married couple we can only dream of the joy there is to come"
Invitation Poems
A 16 line poem – £75
If 2 different poems are required – e.g. 1 for 'all day' guests and 1 for 'evening only' guests then there is a supplement of £30. Total price for the 2 poems would be £105.
*NB Prices are based on JUST the poem. If you would like From Me To You Poems to print them then a selection of designs and prices are available on request.
Example of an Invitation Poem (opening lines)
If you're receiving this invite, then please save this special date,
Because on the 14th April 2019 Dave is marrying Kate!
We've decided that we've been engaged too long, so now there's no more waiting,
They'll be food and drink and laughter and much exuberant celebrating.
So gents dig out your smartest suit, ladies your prettiest frock,
The service is at St. Martin's Church, all starting at 1 o'clock.
Place Settings
£25 per table for a 4 line poem.
*NB Prices are based on JUST the poem. If you would like them to be printed on card and be provided with table display stands, then a selection of designs and prices are available on request. The below example comes from a wedding where the table theme was 'Only Fools and Horses'. There were 8 tables all named after a character from the popular sitcom and all had their own 4 lined poem as a table display piece.
Dell Boy's Table
"Welcome to Del Boy's Table, the bestest one here on display,
And the one  filled with most laughter on Phil and Amy's Wedding Day,
May your bellies be filled right up with great food and lots of bubbly,
And have a blinder of a day you lot, that would be luvly jubbly"
Groom/Bride Thank You Gift Poems
£25 for each 6 line poem
This example shows The Groom's short poem before presenting a thank you gift to his Best Man.
"When deciding on my best man, I needed someone handsome like no other,
But unfortunately I couldn't find him, so I ended up asking my brother!
He arranged my stag do brilliantly, and proved his worth as my best mate,
By ensuring we were all tucked up in bed with cocoa by half past eight.
So thank you for being there for me, through the good times and the bad,
But most of all for keeping all my secrets, from our Mum and Dad."
Thank You Card
A 12 line poem – £65
*NB Prices are based on JUST the poem. If you would like for me to print them, then a selection of designs and prices are available on request.
An example of a Thank You Card (opening lines)
It's difficult for us to put in words, so difficult to convey,
Just how much we loved every second of our Wedding Day,
To get married in the presence of all our friends and family,
And then to receive so many gifts of enormous generosity,
We're truly blessed to have such wonderful people in our life,
And what a way to start this new chapter as a husband and a wife.
***And of course, if there's any other part of your wedding where you think a poem could help that I haven't mentioned, then let me know. I'd be happy to help you out with any of your poetry needs to enhance your celebrations!***
"5 star experience, A truly personal and professional service, Our best man poem went down a storm and the attention to detail was second to none. A big thank you for making the day extra special we will definitely be using your services again". Lauren, Swansea.