Latest News....
And just like that, that's Mother's Day done and dusted too. Loved composing these poems where people want to show just how much they care about their wonderful Mums through a poem telling their life story and relationships with them. Fabulous  😀
Of course, with most the nation in lockdown, going out and buying gifts for a special occasion can be tricky. Well, it's business as usual for From Me To You Poems and the only communication we need is through e-mails, texts and phone calls. I offer a full postal service so you can still give a loved one a gift that will be loved and cherished forever. 
Birthdays, Anniversaries, Retirements,  are Just some of the great ways to tell someone how much they mean to you through a touching and humorous poem.
From Me To You Poems.
Don't be boring, be different. 😀
People say the nicest things….
"Kevin wrote the most amazing thank you poem for me to give my sister. I have never seen her so pleased or emotional over a gift. The poem was perfect and Kevin really conveyed the message I wanted to, which was not easy given the rambled unstructured information I gave him. I am already planning the next one for a milestone birthday for my Mum later this year as Kevin is so much better with words than I. The presentation of the poem was excellent. In this day and age when we all have so much stuff this is such a perfect gift for so many occasions. I can't recommend From Me To You Poems highly enough".  Kate, Edinburgh.
Welcome to From Me To You Poems
A bespoke poetry service for any occasion. Specialising in touching and humorous poetry, this is the answer to your search for a personalised and unique present that you won't find on your high street. For literally any occasion a poem can be written to enhance your celebrations. Click through the headings at the top of this page to see how it all works, the types of occasions that poems can be written for as well as information on pricing and framing options. 

Don't be boring, be different!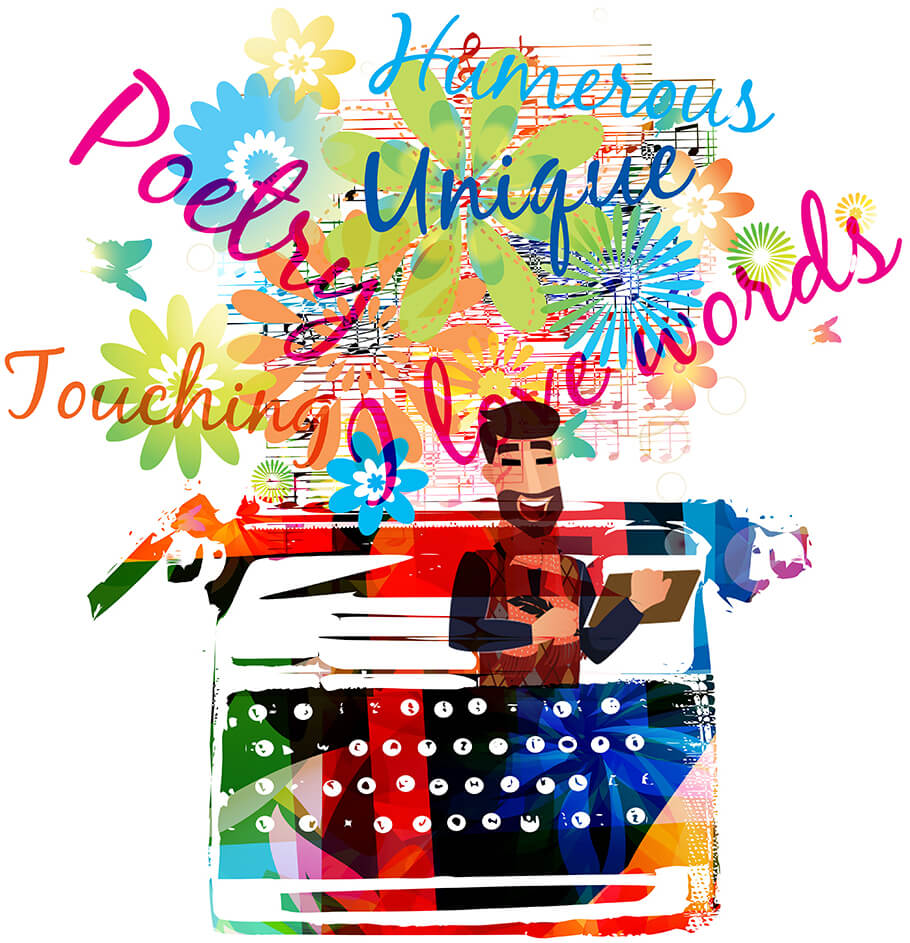 Personal
Personalised poems for Birthdays, Anniversaries, Father's Day or any other special occasion 
Wedding speeches
Best man, groom, maid of honour speeches. Wedding vows, invitations, etc. all in rhyme
Corporate
Long service, awards, achievements, retirements. Let someone feel valued with a personalised poem
Just for fun
A very special gift for a friend, relative  or colleague – show someone you really care
Why Choose From Me To You Poems?
Yes, there are other companies offering a similar service, but I truly believe that no-one mixes touching and humorous rhymes the way I do. But what else makes From Me To You Poems that little bit special? Well, the quality of the work is paramount of course. Check out the reviews and testimonials received From customers who have simply loved their bespoke gifts of poetry. All are genuine, all are full of the kind of feedback that contain the same theme; a rhyming poem they are thrilled with, coupled with the friendliest and most outstanding customer service you could ever wish for.
At From Me To You Poems, total customer satisfaction is non-negotiable!
On top of that, I offer three other key benefits:
A quick turnaround
No payment up front
Framing and postage service